PRESENTATION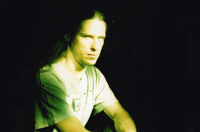 Olivier Canton a.k.a. Oliversticks
28 yrs
Drummer and Metal fan since his first breath.
He has played about 80 shows to this day and did several studio recordings with some of those bands :
EXPERIMENTAL VIEW ART (power metal) (or EVA)
BESTIAL OVERDRIVE (rock 'n' roll)
BURGUL TORKHAIN (brutal death metal)
He plays nowadays with TRIDUS ELASTICUS (death metal), KRYZALID (heavy/thrash) and of course with MALEDICTION (heavy metal).
"I've started playing drums as self taught when I was 17 then during the last few years I have improved my playing as I've approached it more theoretically. Being opened to every music style, my influences are limitless but my soul is definitively Metal!" Oliversticks 2005
Some of the bands Oliver praises highly are MACHINE HEAD, BIOHAZARD, DEATH, FEAR FACTORY, IRON MAIDEN, PINK FLOYD.